Sign for Equality, an online drive to collect signatures to place an initiative on the 2010 California ballot that would repeal Proposition 8, was launched today by the group Love Honor Cherish.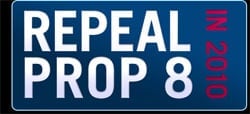 Said Executive Director of Love Honor Cherish John Henning: "We're taking names. SignForEquality.com will make history by using custom social networking tools, as well as YouTube, Facebook and Twitter, to support an all-volunteer signature drive to repeal Prop 8. People throughout California can now help us win marriage back by the simple act of signing and collecting signatures."
Sign for Equality "features a downloadable petition form and training videos for signature gatherers, and uses unique social networking technology to help gatherers set goals, build teams, and find signature gathering events," according to the organizers.
Sign for Equality [official site]