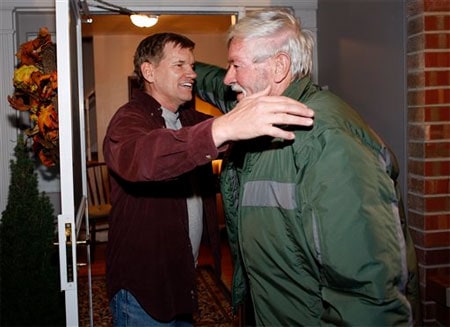 Pastor Ted Haggard is getting a renewed flurry of attention for the prayer meetings he is hosting from his living room. He held one last night: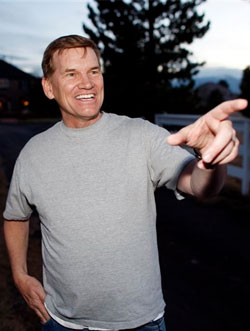 "Wearing blue jeans and a gray T-shirt, Haggard spoke to
photographers and reporters before the prayer meeting at his home in
Colorado Springs. Almost 25 years ago, he had led about two dozen
people in prayer from his home and founded New Life Church, eventually
becoming an evangelical superstar. 'For the people who come tonight, that means they believe in the resurrection in me,' he said. 'Because I died. I was buried.' Haggard,
53, insists his intent is not to start a new church, but he isn't
ruling out the possibility. He said the reason for starting prayer
meetings at his home after three years of exile was a simple one. 'We were getting lonely,' he said."
Haggard was also interviewed by the local ABC affiliate, and asked specifically about his positions toward gays. Haggard says he has renewed compassion for the gay community because of how much people hated him when they thought he was gay (since he's now a heterosexual with issues) More from that interview:
Haggard says he was never an anti-gay preacher:
"I was always well aware of my own personal struggles, but my desire was to be more Godly. I was never a religious right, hateful, anti-gay guy — secretly running off, except right at the end. I'd say right at the end, before the crisis. That did develop a little bit stronger."
Haggard is asked if he believes people are born gay:
"I haven't got a clue. All I know is that in my case it's a very sad story. I regret that it happened. But, I'm glad I've been through what I've been through to take care of it, because in my story it wasn't about being born gay or being gay. I've always had a wonderful relationship with my wife."
Haggard says "trauma resolution therapy" in his childhood may have prevented the gay/escort/meth thing from happening, but he says the process of being hated as a gay man strengthened his compassion for the gay community.
"But it did. And unfortunately it was sexual. And unfortunately, it was about the most socially unacceptable type of thing that you can have. But, it was good for me as a heterosexual evangelical Christian, father of five, 30-year husband of Gayle. It was good for me to go through the Christian hatred of people believing that I was a gay man — and hating me so strongly because of it. And so because of it, my compassion for the homosexual community has gone up incredibly."