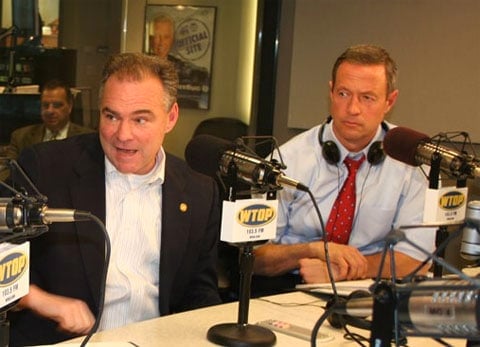 Virginia Governor Tim Kaine and Maryland Governor Martin O'Malley criticized the Catholic Church's threat to cut off social services in Washington D.C. if the District passes a marriage equality law.
Said Kaine: "I'm Catholic, and I think it's wrong. I don't think you take your ball and go home. I think the strategy of threatening to pull back, it doesn't seem like the church I've come up in."
Radio station WTOP, where the pair appeared, reports:
"Kaine, who praised the 'remarkable' work of the church, says if the Catholic Church opts to end its charitable work in the District, it would 'it would set a very bad example.' … 'It's really not who the church has been. If you look at the church through history, the church will stand in tough situations and continue to do good,' said Kaine, who has worked as a missionary in Honduras. 'I would be very, very disappointed here or anywhere else if the Catholic Church decides 'Gosh, we don't like something that's happening in civil society, so we're going to retreat into our shell.''
Maryland Gov. Martin O'Malley, who also is Catholic, agreed. 'I don't understand how they can possibly do this,' O'Malley said. 'I have a hard time believing that the nuns and priests who taught me about the Corporal Works of Mercy would agree that this is an appropriate response for the church,' he said. 'I think it would be very, very sad for all concerned, especially for the people who are served by the good work of the Catholic Church acting out the Gospels.'"