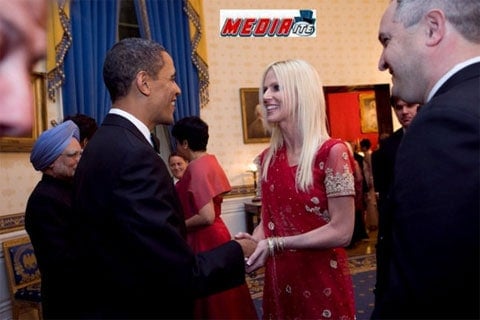 President Obama has ordered an investigation into how Michaele and Tareq Salahi crashed the White House state dinner Tuesday night despite not being on the guest list.
As this photo, via Mediaite, reveals, the Salahis did meet Obama on the receiving line.
The WSJ reports that Bravo was trailing the couple before the event. The Salahis are under consideration as cast members for The Real Housewives of D.C., but have not been officially confirmed, according to the netwok:

Half Yard Productions filmed the Salahis throughout the day Tuesday
— including an hours-long hair-and-makeup session at a Washington
salon — for Bravo.

The Salahis told producers they had been invited to the state
dinner, and "the producers had no reason to believe otherwise," said
Ms. Fuentes, the NBC Universal spokeswoman. The film crew captured the
Salahis' preparation for the event and arrival but were not on the
White House grounds.

One person familiar with the situation bristled at the notion that
White House staff members could have somehow stopped the breach had
they been there checking invitations. With hundreds of expected guests,
no one person could have been expected to recognize all the arrivals,
and at the end of the day, the Secret Service handles White House
security.

Anita McBride, who was First Lady Laura Bush's chief of staff during
the second Bush term, reserved her scorn for the Salahis. The first
state dinner of the Obama administration was a diplomatic success, she
said, but the party crashers have swallowed the attention — by design.

"It's really infuriating that these people would use a diplomatic
event like this for their own purposes," she said, ticking off a list
of grievances from eight hours in a Georgetown salon to the Salahis'
Facebook display to the camera crew that followed them to the gate.
"What does that say about our society? It's depressing, really."
Bravo confirmed the couple was being trailed by a camera crew: "In a statement on Thursday, Bravo said Half Yard Productions, the
producer for the series, had been under the impression that the
Salahis, two polo-playing devotees of Washington's social swirl and
online social networks alike, had been invited to the dinner. The 'Housewives' cast 'has not been finalized,' Bravo said. 'Michaele
Salahi is under consideration as a cast member; as such, Half Yard
Productions were filming the Salahis on that day. Half Yard was only
aware that per the Salahis they had been invited as guests.' A
White House official, informed of Bravo's statement, said that was not
the case. 'We've already confirmed that they weren't invited,' he said."
The Salahis may also have had help from inside: Gawker believes the Salahis received assistance getting in from Indian ambassador Arun K. Singh, with whom they play polo.
The Salahis are scheduled to appear on Larry King Live on Monday night.