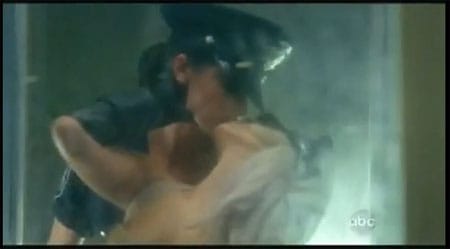 I hate to have to belabor this point because I'm really sick of it, but…for the record…
Last night on Barbara Walters' ABC special the network had no problem showing a clip of Lady Gaga in a lip-lock with a female dancer in her "Love Game" video (above), but when it came time to discuss Adam Lambert's performance at the American Music Awards in a segment following shortly thereafter, Walters said, "He also turned the music industry inside out, doing things we won't show you here."
Why not?
TMZ reports: "ABC says there is not even a trace of homophobia in the network's decision to 86 the Adam Lambert kiss from the Barbara Walters special last night. The network says, 'It was an editorial decision to show very little from the performance and focus on the fresh, new interview with Adam Lambert.'Interesting, because the 'fresh new interview' was all about 'the kiss.'ABC went on to explain its decision to show girl-on-girl by saying, 'The Lady Gaga kiss was used quickly in context of things that upset her father.'"
Clips, AFTER THE JUMP…
The Gaga kiss is just after the 2:42 mark. The Lambert segment is in the intro.