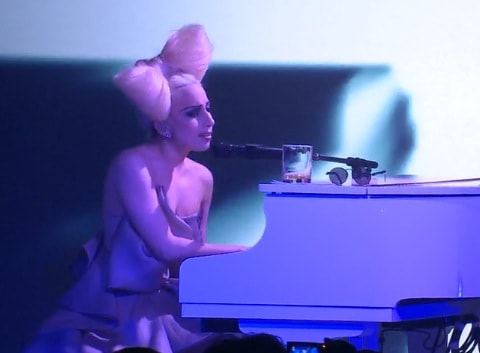 Lady Gaga is playing the Fontainebleau in Miami on New Year's Eve, and has sold over $1 million in tickets:
"The 'Poker Face' singer is said to be getting about 300,000 dollars for the show.Based on sales through Web site NewYearsEve.com, tickets for the singer's performance to ring in 2010 are almost non-existent, with only a few 25,000-dollar tables left and some general admission seats at 425 dollars."
Guy Trebay pays tribute to Gaga in an end-of-the-year column:
"Although Andy Warhol died just a year after Stefani Germanotta came into the world, and decades before Lady Gaga was willed into being, he was correct as usual in forecasting a time when there would be 'new categories of people' being 'put up there' as stars. Those people, he wrote in 'The Philosophy of Andy Warhol (From A to B and Back Again),' would be made up of parts. And their fans, freed from the obligation to idolize a 'whole person,' could choose which dimension of a star they wanted to love. Lady Gaga is rigged for that stardom: her persona is an amalgam of surfaces, faceted though not truly 3-D, addictive in the way video games are."
NYT slide show.
Gaga was speechless as she was presented with a plaque for selling 8 million copies of The Fame recently
Gaga performs "Speechless" at the launch event for VEVO, AFTER THE JUMP…