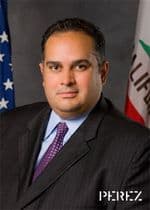 John Perez has been elected the first openly gay speaker of the California Assembly:
"Members emerged from a closed-door caucus at the historic Stanford Mansion to announce that Democrats had chosen Perez, of Los Angeles, on an unanimous vote.
A public vote on the Assembly floor is expected in January.
Perez walked arm-in-arm from the caucus meeting with current Assembly Speaker Karen Bass and Kevin de Leon, a Los Angeles Democrat who had fought fiercely for the job but ultimately bowed out and formally nominated Perez before today's voice vote.
Perez said it was an 'incredibly moving experience to have the unanimous support of my colleagues.'"
Perez is the cousin of L.A. Mayor Antonio Villaraigosa.