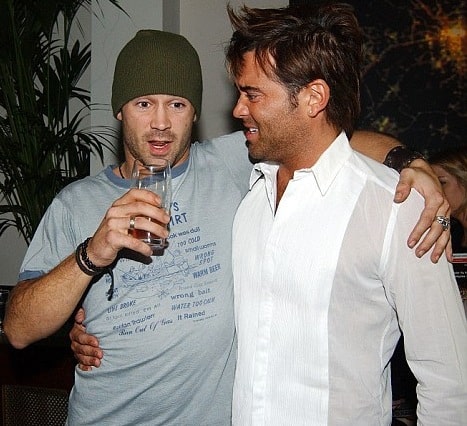 Colin Farrell will help bless his gay brother Eamon's wedding this weekend in Ireland, according to local media:
"Eamon Farrell is having a blessing to mark his union with artist boyfriend Steve Mannion.
According to the Irish Independent, the pair actually got married in Canada this summer, with Colin as Eamon's best man. At the time Eamon lamented the fact he and his partner could not wed in Ireland…After the wedding blessing the couple will spend the evening with a
host of well-wishers in Krystle nightclub, a funky venue on Harcourt
Street in Dublin. The club has private booths, a pent house and a VIP suite – ideal for accommodating the VIP party. It will be a family night out, including Farrell's mother Rita and sisters Claudine and Catherine, the Independent reports. A gang of other Irish celebs will be there too."