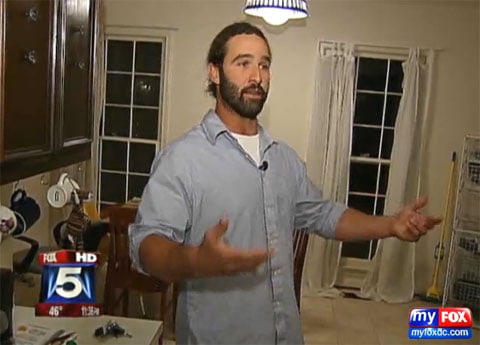 Back in October I posted about, Erick Williamson, who was arrested after a woman and a child saw him nude in his kitchen making coffee early in the morning.
He was found guilty on Friday, but not fined or sent to jail:
"Erick Williamson, 29, continued to believe that he had done nothing wrong and that he did not purposely expose himself to two women and a 7-year-old boy who walked past his house the morning of Oct. 19. He immediately appealed his conviction.
A seven-person jury in misdemeanor appeals court will rule on the propriety of Williamson's domestic nudity in February. 'That's outrageous,' he said after the verdict. 'It's unbelievable." He said publicity from the arrest had cost him a job as a commercial diver. 'I'm the victim,' he said.
Testimony in the hour-long trial before Fairfax General District Court Judge Ian M. O'Flaherty revealed that two separate incidents of alleged exposure had occurred over a two-hour period. Williamson denied standing naked in his doorway or front window and said he had no intent to expose himself to anyone. But O'Flaherty wasn't buying it and likened Williamson to bank robber John Dillinger, who also 'thought he was doing nothing wrong when he walked into banks and shot them up.'"
John Dillinger?