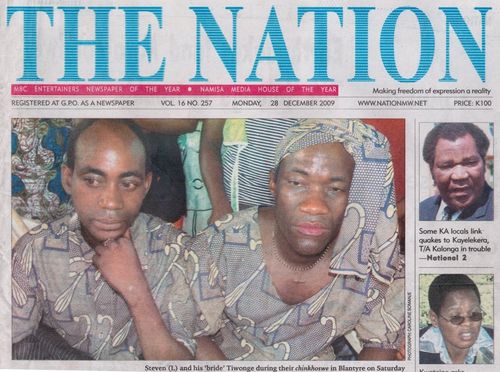 Tiwonge Chimbalanga and Steven Monjeza, the Malawian gay men who held a public wedding ceremony over the weekend and were arrested, pleaded not guilty to charges of public indecency today at a Malawian court in Blantyr, the BBC reports:
"CEDEP's executive director, Gift Trapence, says the laws used to arrest
the couple are invalid because they are against the Bill of Rights
enshrined in the 1995 constitution."
The AFP reports: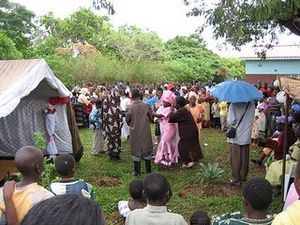 "The couple is facing three counts bordering on 'indecent practices' and they both pleaded not guilty.
Mawiya Msuku, one of the two lawyers who represent the couple, argued that there was no justification for police to continue holding them in custody. 'On humanitarian grounds we ask the court to give the two persons bail,' he said.
However the magistrate ordered that the two remain in custody to allow police conclude investigations into a five-month love affair that has shocked the conservative nation where homosexuality is banned.
Sex topics are still largely taboo in the southern African country.
The two arrived handcuffed at the court amid heavy police security as an enthusiastic crowd of nearly 500 people, with some waving branches, jostled with police and scores of journalists and photographers to enter the tiny courtroom in the centre of town.
Chimbalanga appeared relaxed and calm, waving to the crowd. Monjeza appeared dejected and his face crestfallen.
A commotion continued as the couple was led out of the court by six police officers to waiting vehicles. Some, who appeared to be supporters of the couple, waved tree branches and chanted 'Woyera! woyera!'–meaning 'white wedding', 'white wedding.' The hearing will continue on January 4, the magistrate said."
Previously…
Gay Malawian Couple Who Married in Symbolic Wedding Arrested [tr]
Two Men Defy Anti-Gay Laws, Wed in Symbolic Ceremony in Malawi [tr]