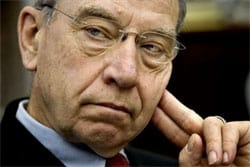 U.S. Senator Chuck Grassley (R-IA) is the subject of a petition by gay rights group One Iowa, asking him to denounce the bill currently pending in Uganda that would subject gays and lesbians to lifetime imprisonment or the death sentence.
Writes One Iowa: "The Family, a fundamentalist group of powerful politicians in America
and abroad has ties to Uganda legislators pushing this horrific affront
to human rights. Our very own Senator Grassley is a member of this
so-called 'Family'."