L.A. Democratic Assemblyman John Pérez looks set to become the first openly gay speaker of the California Assembly: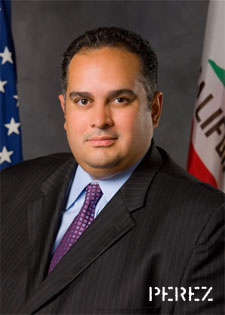 "Assembly Speaker Karen Bass, D-Baldwin Hills (Los Angeles County), said Wednesday that Pérez has secured support of a majority of the Assembly's Democratic Caucus – including herself – and will have enough votes (41 are needed) to become speaker.
It may not be that easy, however: Two other Latino Los Angeles Democrats – Kevin de Leon and Felipe Fuentes – had been vying for the leadership position. Fuentes ultimately threw his support behind Pérez, but de Leon, who secured the support of the Assembly's Latino Caucus on Wednesday, 'is still a candidate for speaker,' said his chief of staff, Daniel Reeves.
Bass said she is confident Pérez will win the seat…Pérez, a freshman lawmaker who is the cousin of Los Angeles Mayor Antonio Villaraigosa, emerged in recent weeks as a contender for the position. He is chair of the Assembly Democratic Caucus and took the party lead securing Assembly votes during last month's contentious negotiations over water policy. He formerly worked as a union organizer and most recently as political director for a Southern California local of the United Food and Commercial Workers Union."