Jim Gray, the Vice Mayor of Lexington, Kentucky will run against Mayor Jim Newberry in next year's election.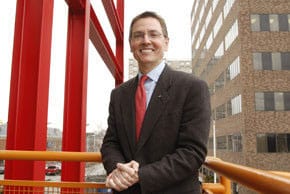 Said Gray: "I'm not running because Jim Newberry is a bad person at all. I'm running because Jim has made some bad decisions."
The Lexington Herald-Leader reports: "Gray ran unsuccessfully for mayor in 2002, being eliminated in the
primary. Isaac went on to beat Scott Crosbie in the general election. In
2006, Gray led a large field of candidates in the Urban County Council
at-large race (the top at-large finisher becomes vice mayor). In
the 2002 race, Gray was worried about a whisper campaign about his
personal life. That led to a decision in October 2005 to publicly
acknowledge that he is gay. The issue didn't come up in the 2006
campaign. That, he said Tuesday, 'confirmed that the people of
Lexington have confidence in me.'"