Here are a bunch of updates on the situation in Uganda.

First of all, the other day I posted about Hillary Clinton's speech to Georgetown University in which she spoke out against the proposed "kill the gays" bill in Uganda. What I hadn't read until recently was a question that followed Clinton's speech specifically about LGBT rights abroad and Uganda.
Via LGBT POV: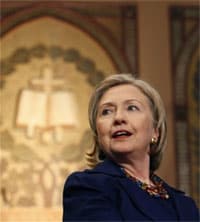 QUESTION: Hello, Secretary Clinton. Thank you so much for speaking to
us today. You spoke about the situation in Uganda. Could you please
talk to us a little bit more about how the United States can protect
the rights of LGBT people in areas where those rights are not respected?

SECRETARY CLINTON: Yes. And first let me say that over this past
year, we have elevated into our human rights dialogues and our public
statements a very clear message about protecting the rights of the LGBT
community worldwide. And we are particularly concerned about some of
the specific cases that have come to our attention around the world.
There have been organized efforts to kill and maim gays and lesbians in
some countries that we have spoken out about, and also conveyed our
very strong concerns about to their governments – not that they were
governmentally implemented or even that the government was aware of
them, but that the governments need to pay much greater attention to
the kinds of abuses that we've seen in Iraq, for example.

We are deeply concerned about some of the stories coming out of
Iran. In large measure, in reaction, we think, to the response to the
elections back in June, there have been abuses committed within the
detention facilities and elsewhere that we are deeply concerned about.
And then the example that I used of a piece of legislation in Uganda
which would not only criminalize homosexuality but attach the death
penalty to it. We have expressed our concerns directly, indirectly, and
we will continue to do so. The bill has not gone through the Ugandan
legislature, but it has a lot of public support by various groups,
including religious leaders in Uganda. And we view it as a very serious
potential violation of human rights.

So it is clear that across the world this is a new frontier in the
minds of many people about how we protect the LGBT community, but it is
at the top of our list because we see many instances where there is a
very serious assault on the physical safety and an increasing effort to
marginalize people. And we think it's important for the United States
to stand against that and to enlist others to join us in doing so.
More on how she held the U.S. accountable, from Karen Ocamb.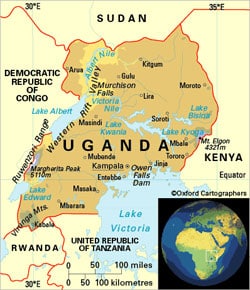 Gay City News has two interesting pieces on folks behind Uganda's anti-gay campaign. The first is on Ugandan pastor Gary Skinner, who oversees a multi-million dollar operation at Watoto Church there:
"While not alone, Watoto is at the forefront of the anti-gay movement in Uganda. Stephen
Langa, an elder at Watoto and the head of the Family Life Network,
produced a March conference on homosexuality in Uganda and at least two
of the sessions were held at the church. He then pressed the government 'to enact stringent laws against the practice,' an article in New
Vision, a Ugandan newspaper, paraphrased him saying."

The second, related article, looks at right-wing charities who have been silent on Uganda, and their potential involvement.

NPR's Morning Edition produced a big piece on activities in Uganda.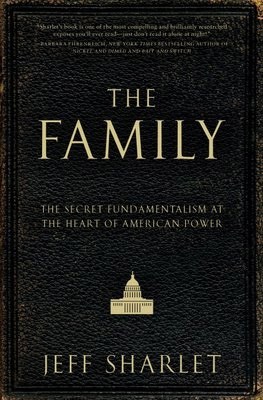 And Jim Burroway at Box Turtle Bulletin reports on a talk NPR's Fresh Air had with Jeff Sharlet, author of The Family. Sharlet says that "The Family opposes the bill and key members are working behind the scenes to stop it from becoming law."
Says Sharlet: "I'd add that through the Fellowship, a number of anti-gay American
politicians have involved themselves with Ugandan affairs, most notably
Senator James Inhofe, who has spoken of having "adopted" Uganda and who
has been a guest at multiple Ugandan National Prayer Breakfasts. I
don't believe James Inhofe told David Bahati to push this legislation.
I believe Inhofe when he says – under pressure – that he's opposed to
it. But the fact is, these powerful politicians, representatives of the
most powerful nation on the world and its foreign aid generosity, are
clear and candid in their opposition to homosexuality. That's their
right. But I believe they should therefore be even more clear and
candid in their opposition to its criminalization. Theirs is a
personal, religious position.  They should extra precautions to make
clear that these positions are in absolutely no way linked to the
relationships between the United States and foreign aid recipients. Not
only have they not done that, they resisted even condemning the bill."
And are Ugandan officials maybe looking for a way out?