Doug Ireland reports on a horrible loss in Honduras:
"Walter Trochez 25 years old, a well-known LGBT activist in Honduras who was
an active member of the National Resistance Front against the coup d'etat there, was assassinated on the evening of December 13, shot dead by drive-by killers. Trochez, who had already been arrested and beaten for his sexual orientation after participating in a march against the coup, had been very active recently in documenting and publicizing homophobic killings and crimes committed by the forces behind the coup, which is believed to have been the motive for his murder. He had been trailed for weeks before his murder by thugs believed to be members of the state security forces.
In an open letter documenting this wave of political assassinations of Honduran queers he'd written last month entitled 'Increase in hate crimes and homophobia towards LGTB as a result of the civic-religious-military coup in Honduras,' Trochez had written that 'Once again we say it is NOT ACCEPTABLE that in these past 4 months, during such a short period, 9 transexual and gay friends were violently killed, 6 in San Pedro Sula and 3 in Tegucigalpa.' At the end of this open letter, Trochez declared that 'As a revolutionary, I will always defend my people, even if it takes my life'. Sadly, that's what happened."
Ireland points to a letter translated by American University Assistant Professor of Anthropology Adrienne Pine about the Trochez murder from the Centro de Investigación y Promoción de los Derechos Humanos (CIPRODEH — the Center for the Investigation and Promotion of Human Rights in Honduras), which you can find here.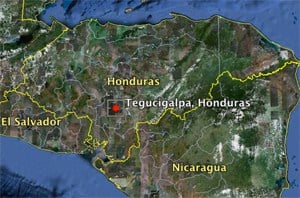 The letter reads, in part: 
"On December 4th the human rights advocate Walter Tróchez, member of the LGBT community and active member of the Resistance Front was kidnapped and savagely beaten outside the 'El Obelisco' Park in Comayaguela, by four hooded men who drove a gray pickup, without plates, presumably of the DNIC [national criminal investigation directorate] (a vehicle of similar description, as he denounced publicly several months ago, had been staking out his house, obligating him to move).
On that day the kidnappers told him they knew him well and they were going to kill him. They hooded him, insulted him, and began to interrogate him about the resistance, asking for information about its leaders and its movements. At that time he managed to escape alive, and the next day he filed a complaint with national and international authorities.
Today we have been informed that he has been assassinated by two gunshots just outside of Larach & Co. in the center of Tegucigalpa."