Protugal may soon be the sixth European country with marriage equality, as the government has drawn up a bill, the AP reports: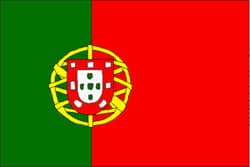 "The law is almost certain to pass, as the center-left Socialist government has the support of all left-of-center parties, who together have a majority in Parliament. Right-of-center parties oppose the measure.
The proposal changes Portuguese law to remove references to marriage being between two people of different sexes, Cabinet Minister Pedro Silva Pereira told a news conference Thursday, adding the government will send its proposal to lawmakers for a debate, probably in January.
If approved by Parliament, the proposed law goes to Portugal's conservative President Anibal Cavaco Silva, who can ratify or veto it. A veto can be overturned by Parliament.
If there is no presidential veto, the first gay marriage ceremonies could take place in April— a month before Pope Benedict XVI is due on a four-day official visit."
Portugal would join Spain, The Netherlands, Sweden, Norway, and Belgium in allowing gay couples to marry.