Last week I posted about a hideous crime in the west Texas town of Terlingua in which an 18-year-old male, whose name is being withheld, was kidnapped and
repeatedly sexually assaulted by two men before his car was set on fire
in the Texas ghost town of Terlingua. There are still more questions than answers in the case and the investigation appears to be moving at a sluggish pace.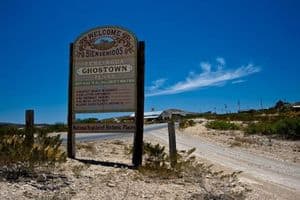 I received an email yesterday from a reader, James, who lives in nearby Marfa, Texas. He is organizing a rally in support of the victim tonight and sent the following email out to residents of Marfa yesterday:
"Friends,
Last week a brutal crime happened in our own backyard. An 18 year-old Terlingua boy was kidnapped and sexually assaulted by two older men. Thankfully he was able to escape and is lucky to be alive – See the full story below. The two perpetrators were arrested (It took two full days – even with a positive ID from the victim the previous Sunday night it happened) and bond has been set at a ridiculously low $35,000 for one of the men (That means he only has to post $3,500 for bail)!
This is a blow both to the West Texas community at large and a blow to our sense of safety and security. Tomorrow (Monday the14th of December) I am asking you all to join me at 6 pm on the courthouse lawn to show your support for the victim of this awful crime and to stand with me against crimes like this. You will all have an opportunity to speak your mind at the end of the vigil.
I have included contact info below for the Brewster Co. Judge's office and the District attorney's office. Please call or fax their offices to voice your opinion or raise questions about the choice to set bond so unbelievably low and why it took Brewster Co. officials such a long time to act. Please call and fax these offices!
I hope to see you all tomorrow. Judge DeHeart:
FAX# 1-432-837-1241
Telephone# 1-432-837-5831
Address: P.O. drawer #1410 Alpine, TX 79831
District Atty. J. Gonzalez:
Fax # 1-432-336-8333
Telephone # 1-432-336-3322"