The men have been released but are under investigation: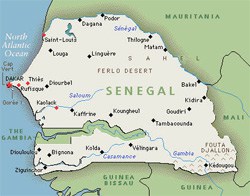 "Officers arrested the men on December 24 at a house in the seaside resort of Saly, 80 kilometres (50 miles) south of Dakar, for allegedly engaging in homosexual acts and holding an unauthorised party, the police source said.
They were released the next day but police are continuing their investigations, the source added. 'They can be called in again at any time. The two organisers were questioned today to see if there is anything to follow up with in this case,' the source said.
The source said officers found condoms, lubricants, wigs and makeup when they raided the house in Saly where the party is said to have taken place.
Homosexuality is a crime in largely Muslim Senegal and carries a jail sentence of up to five years."
The AFP reports, however, that "Senegalese Foreign Minister Madicke Niang on December 10 said there is 'no question that homosexuality will be decriminalised in Senegal.'"
Previously…
Two Teens Convicted, One on Trial for Gay Sex Charges in Senegal [tr]
In Senegal, They Don't Even Tolerate Dead Gays [tr]
Court Overturns Sentences of Gay Men Jailed in Senegal [tr]