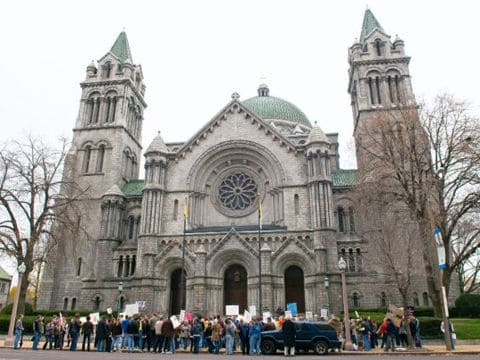 Some dedicated activists in St. Louis have been holding weekend protests against the Catholic Church since Maine's marriage equality law was voted down in November. This past Sunday was the group's third protest. KMOX reports: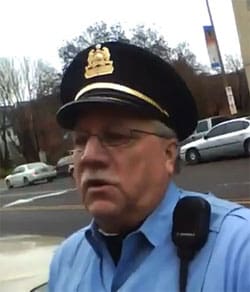 "About 65 members of a groups Show Me No Hate and the Catholic Action Network lined the sidewalk in front of the Cathedral Sunday afternoon. It's the latest in a series of Sunday demonstrations following news that Archbishop Robert Carlson donated $10,000 to help veto a gay marriage law in the state of Maine.On Sunday four protestors attempted to stand alongside their cars parked at a 45 degree angle in front of the church holding signs that read, 'Honk for Equality' or 'Separation of Church and Hate.'That's when they claim police muffled their protest by ordering them back on the sidewalk. There were no arrests and no allegations of police getting physical. But organizer Ed Reggi captured a tense exchange with an officer on video tape (videos AFTER THE JUMP), in which he was warned to 'prepare for arrest,' when he refused at first to step back on the sidewalk.The officer on the video tells Reggi that he is not allowed on the street and that his holding of signs there was disturbing traffic and had prompted several 911 calls."
The Archdiocese released a statement that it had nothing to do with the fact that the police were there.
The police also released a statement: "Several of the protestors told police that theywanted to get arrested for the media attention. They have been doingthese protests every week for several weeks now with no arrests, sothis is their way of getting media attention. If someone is allegingofficer misconduct, we encourage them to contact the Internal AffairsDivision."
Protestors have planned another demonstration for this coming Sunday and have called on their members to "Show up in full force."
Watch videos, AFTER THE JUMP…