The AP's Lisa Leff on the Olson/Boies federal Prop 8 challenge set to begin Monday:
The case will decide a challenge to California's gay marriage ban that
was approved by voters in 2008, and the ruling will likely be appealed
to the U.S. Supreme Court. How the high court rules in the case could
set the precedent for whether gay marriage becomes legal nationwide.

"This could be our Brown vs. Board of Education," said former Clinton
White House adviser Richard Socarides, referring to the 1954 Supreme
Court decision that outlawed racial segregation in schools and other
public facilities. "Certainly the plaintiffs will tell you they are
hoping for a broad ruling that says that any law that treats someone
differently because of sexual orientation violates the U.S.
Constitution."

The case marks the first federal trial to
examine if the U.S. Constitution permits bans on gay marriages, and the
challenge is being bankrolled by a group of liberal Hollywood activists
including director Rob Reiner and producer Bruce Cohen.
The judge: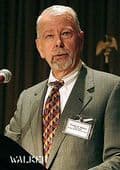 Presiding over the case is U.S. District Court Chief Judge Vaughn
Walker, a Republican named to the bench in 1989 by the first President
Bush. Walker, who has a reputation as an independent thinker, was
randomly assigned the lawsuit, put it on a fast-track to trial and has
said he thinks it raises serious civil rights claims. During a pretrial
hearing in August, the judge pointedly scolded Schwarzenegger for
remaining neutral "on an issue of this magnitude and importance."

Walker says the case is so important that the court has taken the rare
step of allowing videotaping of the proceedings so the public can
watch. The trial, scheduled to start Monday, will air on YouTube every
day.