Yesterday I posted about the testimony of San Diego Mayor Jerry Sanders in the federal Prop 8 trial, and Maggie Gallagher of NOM's loathsome reaction to it. Find that HERE.
Following Sanders' testimony the court heard from M.V.
Lee Badgett, Ph.D. (pictured, below), a professor of economics at the University of
Massachusetts, Amherst.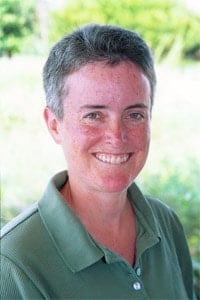 The AP's Lisa Leff: 
Badgett, who also directs research for a gay-related think tank at the University of California, Los Angeles,
took the witness stand on behalf of two same-sex couples suing to
overturn Proposition 8, the state's voter-approved ban. She cited
statistics from Massachusetts, which has allowed gay couples to marry
since 2004, showing that marriage and divorce rates for straight
couples have not been affected. 'I don't think
we need to wait any longer to see what the impact will be. I think we
know,' Badgett said. 'Everything I've looked at leads me to the
conclusion that there is no impact.'"
Shannon Minter at Pam's House Blend: 
"Charles Cooper cross-examined Professor Badgett for nearly three hours,
by far the longest examination of the day.  In a pattern that has now
become familiar in this trial, Cooper spent most of his time trying to
poke holes in various minor details of Professor Badgett's analysis,
without challenging her larger conclusions. Cooper's examination fell
especially flat when he put charts in front of Badgett that he claimed
showed marriage equality in the Netherlands had led to lower rates of
marriage, larger numbers of unmarried couples raising children, and
larger numbers of single parents raising children.  Professor Badgett
did not agree with his characterizations, saying that these changes
seemed to reflect long-term trends that were not affected in any way by
permitting same-sex couples to marry, and stating that a longer range
of dates needed to be studied before drawing any conclusions."
Taking the stand today, according to AFER's Yusef Robb:
Ryan Kendall, a gay man who will
testify about the "conversation therapy" he underwent in his youth and how he
has been affected by discrimination

Gary M.
Segura, Ph.D,Professor
of American Politics in the Department of Political Science at Stanford University.
He will testify about the relative political power of gays and lesbians as a
class of citizens, and their level of political vulnerability.