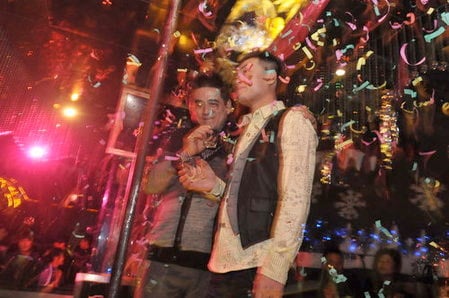 Zeng Anquan and Pan Wenjie are making headlines in China for a wedding ceremony held at a bar in Chengdu in China's Sichuan Province on January 3rd.
"The couple finally made their choice – to get married in a bar frequented by male homosexuals, which was unprecedented in the city.
More than 200 of the couple's friends who shared their orientation were invited to the wedding but many guests who saw their wedding photos were surprised to find the bride in the white wedding gown was a man. 'Gays in Chengdu hardly tell others they are gay. They only meet each other in bars or teahouses, and dare not tell family members or friends,' Zeng said.' We are no longer hiding any more. The wedding is our happiest and most precious moment,' Zeng said. 'We don't care how others consider us, as long as we are together.'
The only thing they regret is that they could not get a marriage certificate in line with Chinese law. 'Thousands of gays and lesbians get married in France, Finland, the UK. Why couldn't we?'
Zhang from Qingdao University and some other scholars, including well-known sociologist Li Yinhe, have called on the government to recognize and legalize same-sex marriage in China.
There has been no response from the government and critics argue the idea is too radical for present-day China."
Last February, on Valentine's Day, gay activists held mock same-sex marriage ceremonies on a busy Beijing street.