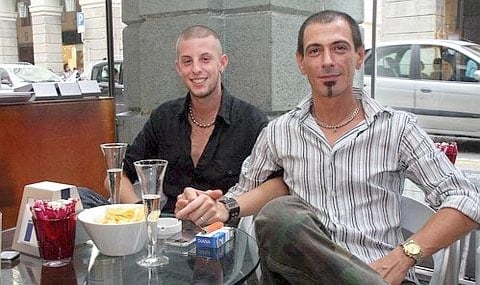 Italian couple Francesco Zanardi and Manuel Incorvaia are on a hunger strike for marriage equality and "are webcasting their own campaign, streaming it live, 24-hours a day, on
www.glbt-tv.it, the Global Post reports. The couple are part of a case involving 23 couples that is making its way through the Italian courts:
"Last November, Zanardi and Incorvaia and 23 other same-sex couples
walked into their local city halls and requested that they be married.
Once mayors denied their request, the couples took their cases to court,
claiming that the Italian constitution doesn't forbid gay couples from
marrying."
Four lower courts are now hearing the case which they must reject or send to a higher court:
"Like many others, Mori is betting on Zanardi's and Incorvaia's case reaching constitutional courts.' If they don't respond to the call, they will be remembered as those constitutional judges who didn't love the people," said Mori, "who discriminated against people based on their sexual orientation.'
On Wednesday, Zanardi and Incorvaia will appear in court for their first hearing — that is, if they still have enough energy to leave their house. The tall and slender Zanardi has already lost 18 pounds. He has collapsed several times and is now unable to retain any liquids. 'My body is giving up,' he said.
But that doesn't deter him. 'I am not going to stop striking,' said Zanardi. 'If necessary, I'll die at home.'"