Without mentioning Mancrunch.com specifically, GLAAD yesterday called on CBS to explain why it chose to "exclude an ad with gay content" from Super Bowl programming.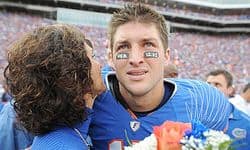 Said GLAAD President Jarrett Barrios: "CBS has a problem when they do something like this at the same time as
they allow an anti-gay group like Focus on the Family to place ads
during the Super Bowl. This
network should come clean to the public about what's going on because
this seems to be a homophobic double standard."
In related news, attorney Gloria Allred is demanding disclosure on the Tebow ad that abortions were illegal in the Philippines at the time Tebow's mother made her decision to not have one so it's unlikely that doctors would have even suggested it was an option.
Said Allred: "If this ad airs and fails to disclose that abortions were illegal at
the time Ms. Tebow made her 'choice', then I intend to file a formal
complaint of misleading advertising with those federal commissions."