Late today, the Gay & Lesbian Alliance Against Defamation (GLAAD) finally joined the chorus of those expressing concern about a Focus on the Family ad CBS plans to run during the Super Bowl featuring University of Florida Quarterback Tim Tebow.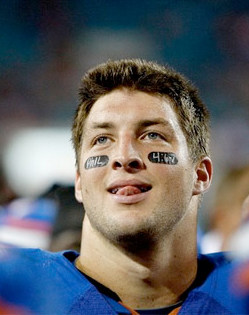 In 2004, CBS
rejected an ad about tolerance from the United Church of Christ in
which the UCC's inclusive policies were highlighted by showing a bouncer
stationed at a church door with a velvet rope turning away gays and
minorities.
Said GLAAD Senior Director of Media Programs Rashad Robinson: "CBS's decision to run a Focus on the Family ad during this year's Super Bowl can't and shouldn't be considered in a vacuum. CBS spent years denying a platform to an LGBT-inclusive church that wanted to share a message of inclusion with a national audience. Now, when it happens to be financially inconvenient for CBS to hold to the standard it had previously imposed, the network's expediency benefits a virulently anti-gay organization whose advocacy on these issues is the antithesis of that of the United Church of Christ."
GLAAD asks people to call CBS
to express their concern but falls short of asking the network to
reject the ad as
a coalition of women's groups did this week, instead calling on the
network to explain its decision.
CBS spokesman Dana McClintock explained the network's position
earlier this week: "We have for some time moderated our approach to
advocacy submissions
after it became apparent that our stance did not reflect public
sentiment or industry norms. In fact,
most media outlets have accepted advocacy ads for some time."
According to an AP article published earlier this week, "CBS also told the AP that, under
its new policies, the UCC ads would have been accepted for airing."
Rev. J. Bennett Guess, Director of Communications for the United Church
of Christ told GLAAD: "CBS' about-face only underscores the arbitrary way the networks
approach these decisions, and the result is a woeful lack of religious
diversity in our nation's media. Such flip-flops only
lead the public to believe that broadcasters own the airwaves when, in
theory at least, they do not. This April, in an attempt to reach newer audiences,
the UCC does plan to unveil a new 30-second commercial with purchased
spots on internet sites; however, our media-buying plan, at present,
does not include national TV. But the larger issue of access remains,
not just for the UCC but for all religious groups. When and if the UCC
does return again to CBS or another network, will our distinctive
religious viewpoint be heard or will there be yet another policy change?"