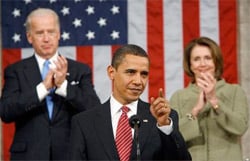 White House Senior Adviser David Axelrod told CNN that Obama will call for a repeal of "Don't Ask, Don't Tell' in tonight's State of the Union speech.
Of course, as many of you know, this is nothing new. Obama has called for a repeal time and time again. What is needed is action, not more rhetoric.
As Richard Socarides put it in an article today in Politico: "His time is running out. We are not waiting for a second term. It must include an immediate
moratorium on the witch hunts and expulsions."