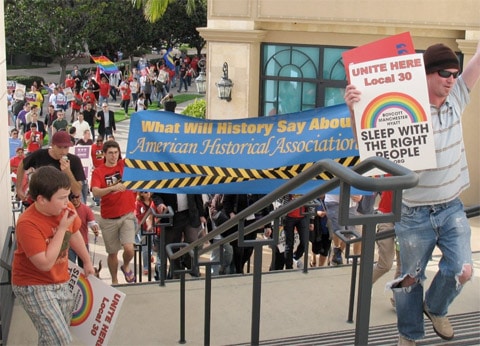 Rex Wockner has a report and some photos (above) of yesterday's protest of Prop 8-supporter Doug Manchester's San Diego's Manchester Grand Hyatt.
Watch VIDEO and INTERVIEWS from the raucous rally, AFTER THE JUMP…
Wockner reports:
"Close to 300 people staged a raucous demonstration at the Manchester Grand Hyatt hotel in San Diego on Jan. 9 to protest the American Historical Association's decision to go ahead with its annual meeting there rather than honor the gay boycott of the hotel.The boycott was launched in mid-2008 after hotel owner Doug Manchester donated $125,000 to the campaign to put Proposition 8 on the ballot. The constitutional amendment passed in November 2008, repealing same-sex marriage in California."
The San Diego Union Tribune reports: "The rally targeted the American Historical Association, which decided to hold its annual conference this week at the Grand Hyatt despite an ongoing boycott.About 4,000 association members — a tweedy mix of college professors, history teachers and librarians — are attending the conference that organizers decided to hold rather than pay steep cancellation penalties."
Watch VIDEO and INTERVIEWS from the raucous rally, AFTER THE JUMP…
Previously…
Manchester Grand Hyatt Releases Statement on Planned Gay Protest [tr]
Major Protest Planned at San Diego Anti-Gay Hotel Manchester Hyatt [tr]