More where this came from at Good As You.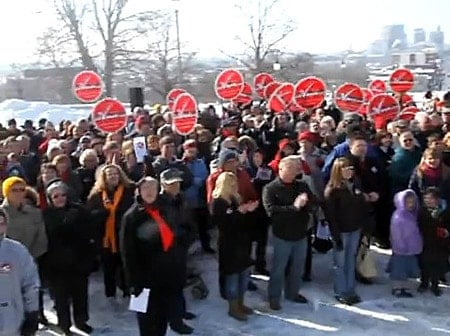 Icy hearts in the heartland.
Eighteen Iowa Republican lawmakers have introduced a resolution which proposes a constitutional amendment recognizing only marriages between one man and one woman as valid in the state, the Gazette reports:
"This starts the ball rolling. It's imperative that the citizens ofthe state of Iowa have something that they can point to as a mechanismto start the ball rolling," said Sen. Merlin Bartz, R-Grafton.

"Nowthat we've had this introduced in the Senate, they'll have theopportunity to contact their legislators and ask them to support theSenate joint resolution," he added.

However, Bartz concededSenate Joint Resolution 2001 faces nearly insurmountable odds in beingdebated during the 2010 session – given the steadfast opposition fromSenate Majority Leader Mike Gronstal, D-Council Bluffs.

"Iappreciate that people feel strongly about this issue. I think peopleshould advocate for the things that they believe in and I encouragethem to do that," Gronstal said. "I think I've been abundantly clear topeople, I do not intend to take this up this session."

Theresolution was assigned to the 11-member Senate Rules andAdministration Committee, which is chaired by Gronstal and has sevenmajority Democratic members.
Meanwhile, Iowa wingnuts held a protest to coincide with the opening of the legislature demanding they be allowed to vote on marriage equality.
Feel the hostility, AFTER THE JUMP…