Visit msnbc.com for breaking news, world news, and news about the economy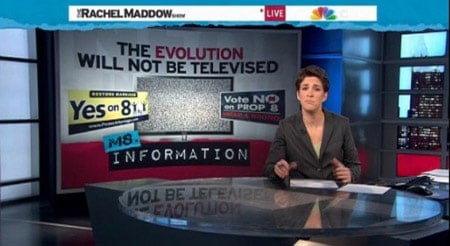 Rachel Maddow spoke briefly about the federal Prop 8 challenge last night. More specifically, on the Supreme Court's decision to, at least temporarily, block broadcast of it.
Said Maddow: "Much more to come. But it is a rather unsettling beginning for the opponents of gay marriage, that their first victory was earning the right to not be seen in public making their case. I know there's gay pride, but isn't there anti-gay pride too?"
Watch, AFTER THE JUMP…