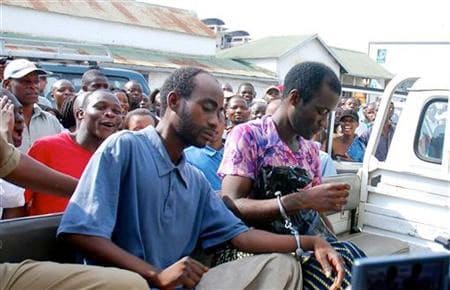 Lawyers for gay Malawi couple Steven Monjeza and Tiwonge Chimbalanga, imprisoned for "gross indecency" after holding an engagement ceremony at a local lodge last month, filed court papers Monday asking for a review of the nation's ban on homosexuality as their trial began yesterday.
Anyone convicted of violating the ban on homosexuality could face a prison sentence of up to 14 years. The couple's defence team argued in court Monday that their arrest
on the basis of their perceived sexual orientation 'amounts to
discrimination, a violation of their rights to freedom of expression,
conscience and expression as enshrined in our republican constitution.'

"Our prayer is for a constitutional review of the laws in the penal
code that criminalise homosexuality in the country and are inconsistent
with the constitution," lawyer Noel Supedi told a packed court.

Chief resident magistrate Nyakwawa Usiwausiwa, presiding over a case
that has generated widespread public debate in the country, agreed with
the plea for a constitutional review but ruled the case could be moved
to the constitutional court only with the consent of the chief justice.
Check out that powerful photo of Monjeza and Chimbalanga handcuffed in a pick-up truck before the trial began. That crowd is obviously mocking and harassing them. And their only "crime" is loving one another.
A call for the couple's unconditional release from Amnesty International has thus far gone unheard.