This morning I reported that LGBT groups were planning a protest this Saturday at Prop 8 supporter Doug Manchester's Manchester Grand Hyatt in San Diego because the American Historical Association is holding its annual convention at the hotel and plans to include forums on same-sex marriage as part of its agenda.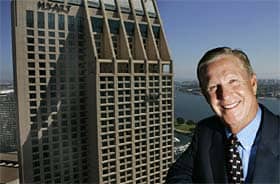 The Manchester Grand Hyatt San Diego released a statement to Towleroad regarding the planned demonstrations:
Manchester Grand Hyatt San Diego would like to acknowledge the activities taking place this weekend both inside and outside our hotel property.

Manchester Grand Hyatt San Diego welcomes the American Historical Association (AHA) to our hotel. The AHA has confirmed a block of more than 4,000 room nights. The AHA Executive Committee honored their contract with Hyatt and they decided not to bow to the pressure of outside groups to cancel their convention. The AHA is including numerous sessions on their schedule regarding same-sex marriage issues in a variety of contexts. These sessions have also been made available to the public.

There are a number of outside organizations that are intentionally targeting Manchester Grand Hyatt under the guise of the equality movement with a hidden Union agenda. This is both misleading to the public and to the activists that respect and follow the organizations and their leadership. Hyatt has a significant history of support for the LGBT community, spanning several years with multiple awards and recognitions, which is unparalleled in the hospitality business.

Manchester Grand Hyatt San Diego will continue to welcome and celebrate guests and patrons of all backgrounds, faiths and orientations – as we also respect and support constructive exhibitions of free speech. Manchester Grand Hyatt San Diego looks forward to welcoming our guests from the American Historical Association and appreciates their loyalty.
In related news, Towleroad has obtained a November memo (via Rex Wockner) from The Committee on Lesbian, Gay, Bisexual, and Transgender History, an affiliate society of the American Historical Association, telling its members that it "stands in full solidarity with the local community in San Diego and with the goals of the boycott organizers" and urging them to "act up":
"We ask
that conference participants take all opportunities possible to clearly
and visibly express their opposition to Manchester's actions, and that
those participating in and attending the mini-conference on historical
perspectives on same-sex marriage take the opportunity to act up inside
the hotel in solidarity with those organizing and observing the boycott."
Read the full memo HERE (PDF).
Recently…
Major Protest Planned at San Diego Anti-Gay Hotel Manchester Hyatt [tr]