Speaking for the desperate housewives of New Jersey, former NJ governor Jim McGreevey's ex-wife Dina Matos, told a crowd at the Zonta Club in Mountain Lakes that the legislature was right to reject marriage equality: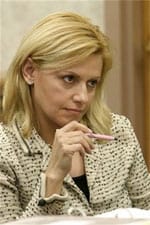 "We have the civil union law in place, which I think is wonderful. I was raised a Catholic. I grew up in the church, so I believe in traditional marriage between a man and a woman."
Added Matos: "There are at least two million marriages that break up each year
because one of the spouses come out of the closet. You don't understand
unless you live it. When you're living with someone who has a secret, they take every measure possible to hide it."
What Matos apparently failed to convey to the crowd was that if homosexuality was more accepted in society (i.e. marriage equality), it would spare untold amounts of marriages doomed because the husband is in the closet but suddenly realizes he wants to be openly gay, and after coming out subjects his ex-spouse to years of self doubt.
Ahem.