The man charged with the brutal murder of gay Puerto Rican teen Jorge Steven Lopez Mercado has been deemed mentally fit to stand trial, Edge reports: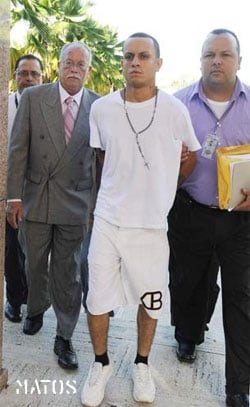 "Territorial psychologist Rafael Cabrera reported his findings to Judge Miriam Camila Justino during a hearing in Caguas earlier this morning. Local authorities contend Juan José Martínez Matos murdered Jorge Steven López Mercado last November before dumping his decapitated, dismembered and partially burned body along a remote roadside.
"The quest for justice has begun," Pedro Julio Serrano of the National Gay & Lesbian Task Force told EDGE in a text message sent from inside the court house.
Local authorities have pledged to prosecute Martínez under the territory's hate crimes laws, but activists and elected officials on the island and around the country remain outraged over Gov. Luis Fortuño's continued silence."
In November Mercado's
decapitated, dismembered, and partially charred body was found by the side of a road in Puerto Rico. The police
investigator suggested that he deserved what he got because of the
"type of lifestyle" he was leading. Juan Martinez Matos has been charged with first-degree murder for Mercado's death.
In late December, Matos was ordered to undergo a psychiatric evaluation
after appearing unfit for a pre-trial hearing. However, there was
suspicion that Matos may have been feigning the mental trauma.