Equal rights for all, right? Like what the U.S. Constitution should provide, but doesn't: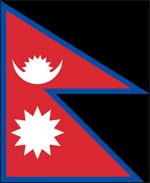 "In less than five months Nepal will have a new constitution that will be the first in Asia to guarantee equal rights to sexual minorities. And once that happens, Tripti and Darshana, a lesbian couple, can formally wed.
The couple in their 20s was thrown out of Nepal Army nearly three years ago due to their sexual orientation—albeit 'disciplinary ground' was cited as the reason for their removal.
It is such kind of discrimination against lesbians, gays, bisexuals, transgendered and inter-sexed (LGBTI) that the Himalayan nation's new constitution seeks to prevent."
Said MP Sunil Pant: "Rights for LGBTIs have been well drafted in the new constitution. They
will ensure non-discrimination and separate citizenship IDs for
third-gendered people."
Nepal will stage gay weddings on the slopes of Mt. Everest: "The company will offer elephant-back bridal processions, Everest base
camp ceremonies and weddings in remote Tibetan enclaves in the
Himalayan republic."