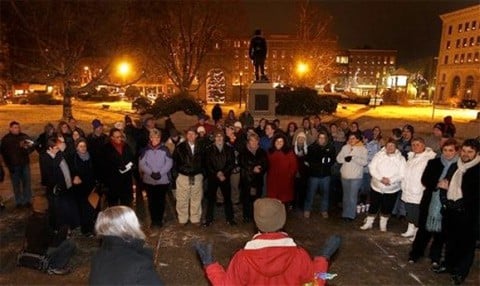 Approximately 15 gay couples were married at the New Hampshire state house just after 12:01 am this morning as the state's marriage equality law took effect.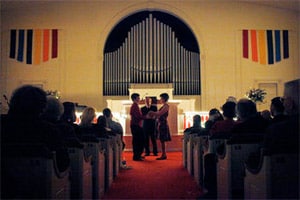 Others chose a church: "In a candlelit church brimming with family and friends, Jennifer Morton and Michelle Morrison heard an announcement they've waited 13 years for: they were, at long last, married.
At the stroke of midnight, the couple joined in a rousing chorus of Auld Lang Syne at their church, the Unitarian Universalist Church of Nashua, and then rang in the New Year by observing the moments-old law allowing gay couples to marry in New Hampshire. 'It's very exciting,' Morton said. 'I'm really glad it happened in our lifetimes. I didn't know if it would.'
Morton and Morrison, both 38, celebrated their marriage with their two children, 150 friends, family and much of the congregation. The event was open to everyone in the church, making part New Year's party, part wedding, part landmark moment."
Congrats to all those married in New Hampshire. Best wishes for 2010.