The AP profiles Craig Dean, who with his late boyfriend Patrick Gill, sued the city of Washington D.C. in 1993 for denying them a marriage license: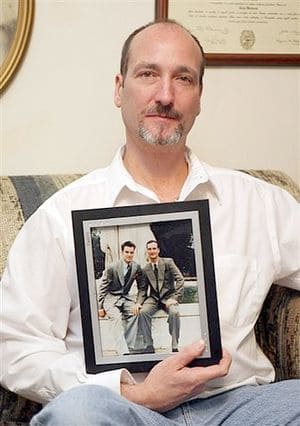 "They'd been on CNN, were profiled in The Washington Post and sat on Oprah's couch.
And though they lost their landmark case, the city last month finally did what it had refused to do back then: Legalize gay marriage.
Dean, who now lives in South Carolina and runs a talent agency for gay and lesbian speakers, said he cried when he read the news. 'They owe me a marriage license,' he said."
Dean's current partner proposed to him when they heard the news about the passage of marriage equality in D.C. and Dean says he wants the first license because of what he faced 16 years ago:
"Just filing for the marriage license made many established gay groups angry. Some thought the pair was asking for too much and feared a backlash. Lambda Legal Defense Fund executive director Tom Stoddard called their challenge 'shortsighted.' Washington was 'probably the worst jurisdiction in the country' to try to legalize same-sex marriage, said Stoddard, an influential advocate who died of AIDS in 1997. Let other places do it first, he urged, then come back to the city.
Dean didn't back down, drawing motivation from the time Gill was rushed to the hospital and Dean hurried to the emergency room, only to be told he couldn't see his partner. If they were married, things would be different, Dean thought. So he researched the city's laws and was convinced nothing in the code prevented them from getting married.
The lawsuit went on five years. Ultimately, a three-judge panel of the D.C. Court of Appeals ruled against the pair. District laws were never intended to let gay couples marry, wrote Judge John Ferren, who still sits on the court.
His colleague, John Terry, also a sitting justice, was more blunt: 'They are, of course, free to refer to their relationship by whatever name they wish. But it is not a marriage, and calling it a marriage will not make it one.'"
With gay marriage coming to DC, man who fought for it 2 decades ago wants first spot in line [la times]