New York state senator Hiram Monserrate (D-Queens), who was among the "no" votes on the marriage equality bill and was convicted of assault on his girlfriend last year, has been recommended for censure or expulsion by a Senate panel: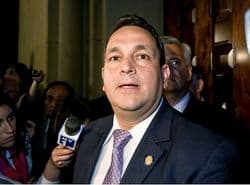 "The sources, who spoke on condition of anonymity because they were not authorized to speak publicly, say this sends the question to the full Senate.Monserrate says he won't give up his job even if the Senate expels him.A lawyer for the Queens Democrat, Joseph Tacopina, has said there's no legal foundation for expulsion.Monserrate was convicted of dragging his girlfriend but acquitted of a felony. Her face was slashed by broken glass during what both called an accident."
You may remember over the holidays a group of gay activists crashed the senator's Christmas party.
I've reposted that video, AFTER THE JUMP…