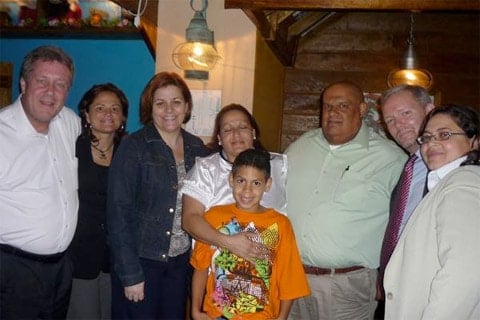 To show solidarity with the family of slain gay teen Jorge Steven Lopez Mercado and other victims of anti-gay hate crime, seven elected officials (including five from the NYC city council) traveled to Puerto Rico this week to meet with the LGBT community there, Gay City News reports:
"Quinn said that [Councilwoman Melissa] Mark-Viverito raised the idea of the trip at a fundraising event for López Mercado's family at Manhattan's Nuyorican Poets Café on January 12. Mark-Viverito and two Chicago Latina elected officials — State Senator Iris Y. Martinez and Representative Maria Antonia Berrios — had already planned the visit, in part to deliver money raised in support of the murdered man's family. The East Harlem Council member suggested Quinn join them.
Quinn, in turn, quickly enlisted the participation of the Council's other three LGBT members — Democrats Rosie Mendez of the East Village, Daniel Dromm of Jackson Heights, and Jimmy Van Bramer of Sunnyside-Astoria. Dromm and Van Bramer just took office this year.
Another key player in putting the trip together was Pedro Julio Serrano, who made history in 1998 as the first out gay legislative candidate in Puerto Rico and now works for the National Gay and Lesbian Task Force in New York."
A Show of Solidarity in Puerto Rico [gay city news]