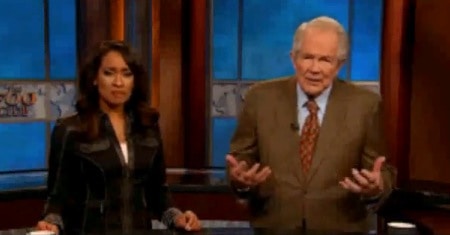 Pat Robertson says that the earthquake likely responsible for thousands of deaths in Haiti happened because the Haitians "swore a pact to the Devil" to free themselves from the French. Robertson suggests the nation needs "a great turning to God."
Watch, AFTER THE JUMP…
Ways to help in Haiti relief efforts. You can donate to singer Wyclef Jean's foundation Yéle: Either you can use your cell phone to text "Yele" to 501501, which will automatically donate $5 to the Yele Haiti Earthquake Fund (it will be charged to your cell phone bill), or you can click here to DONATE. Also, you can donate $10 to the American Red Cross International Response Fund to be charged to your cell phone bill by texting "HAITI" to "90999." Find more ways to help through the Center for International Disaster Information at cidi.org/incident/haiti-10a/.