A vote on Friday is likely to usher in marriage equality in the heavily-Catholic nation of Portugal, AFP reports: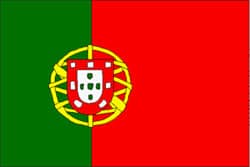 "With the governing Socialists and other left-wing parties enjoying a strong majority, the new law is likely to sail through the first reading debate and gain final approval before a visit by Pope Benedict XVI, due in Portugal in May.
In contrast to Spain, where the lead-up to the legalisation of gay marriage in 2005 brought hundreds of thousands of demonstrators onto the streets, the bill in Portugal has provoked only muted opposition even from the right.
While normally vocal on the role of marriage and the family in society, the Catholic Church has refused to mobilise on a subject which, according to Lisbon's Cardinal Patriarch Jose Policarpo, is "parliament's responsibility".
"I think the Portuguese people have learnt one of the fundamental tenets of democracy: respect for the rights of the individual," Miguel Vale de Almeida, Portugal's first openly-gay lawmaker who was elected in September, told AFP.
Vale de Almeida, who is the Socialists' pointman on the legislation, said there is now a political majority in favour of gay marriage and that it is "too simplistic to link Catholicism and conservatism."
Portugal would join Spain, The Netherlands, Sweden, Norway, and Belgium in allowing gay couples to marry.
Previously…
Portugal Marriage Equality Bill Likely to Pass [tr]