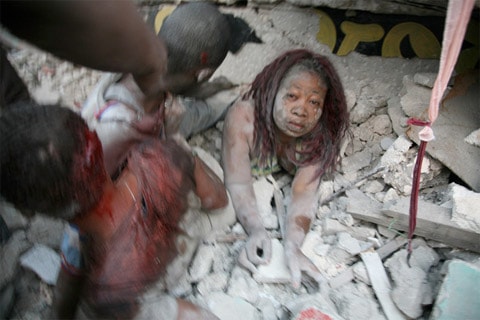 Thousands are likely dead in the desperately poor island nation of Haiti following a 7.0 earthquake that struck late yesterday. These photos, from Twitter, show some of the destruction. Others are simply too horrific to show.
The WaPo: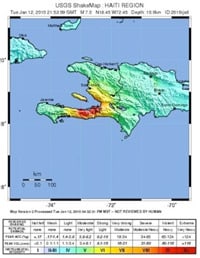 "Teams from across the U.S. government, including the Defense, State and Homeland Security Departments, are coordinating efforts to assist victims of the powerful earthquake that struck Haiti Tuesday.President Barack Obama told members of his national security staff late Tuesday that he expects 'an aggressive, coordinated effort.' Earlier, Obama said his thoughts and prayers were with the people of Haiti and said the U.S. stood ready to help the impoverished Caribbean nation.The 7.0-magnitude earthquake caused thousands of buildings to collapse in Haiti's capital, Port-au-Prince, trapping untold numbers in tons of rubble. While estimating the number of casualties was impossible, State Department spokesman P.J. Crowley said, 'Clearly, there's going to be serious loss of life in this.'"
The UN peacekeeping headquarters collapsed in the quake: "U.N. troops, mostly from Brazil, were trying to rescue people from the wreckage of the five-story building, U.N. peacekeeping chief Alain Le Roy told reporters, but 'as we speak no one has been rescued from this main headquarters.' 'We know clearly it is a tragedy for Haiti, and a tragedy for the U.N., and especially for the U.N. peacekeeping mission in Haiti,' he said."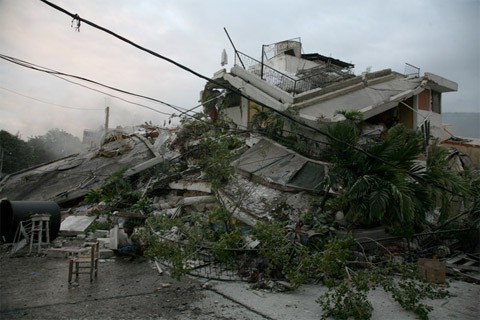 This is what remains of the Presidential Palace: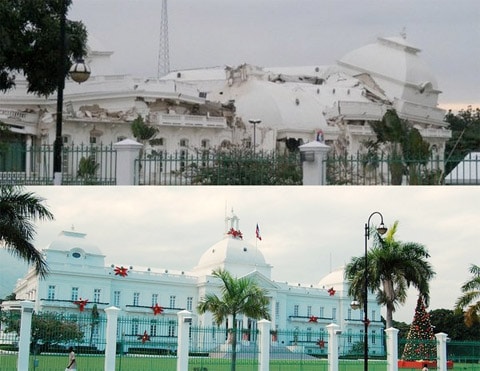 The AP on how you can help: "The U.S. State Department Operations Center set up the following number for Americans seeking information about relatives in Haiti: (888) 407-4747.The department cautioned that because of heavy volume, some callers may hear a recording. The State Department said those interested in helping immediately may text 'HAITI' to '90999' and a donation of $10 will be made automatically to the Red Cross for relief efforts. The donation will be charged to your cellphone bill.The department also suggested contacting agencies such as the Red Cross or Mercy Corps to help with relief efforts."
Footage from CBS, AFTER THE JUMP…
Our thoughts go out to those affected by this tragedy.