Obama stumping for Coakley:
Ed Henry: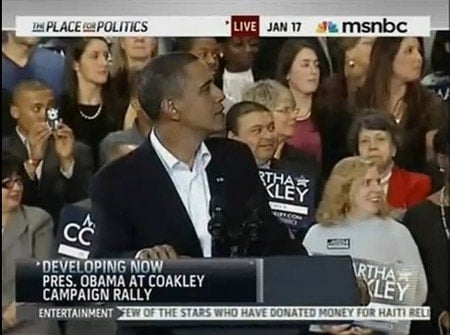 Obama went to Boston Sunday to stump for U.S. Senate candidate Martha Coakley, whose victory is crucial to the President's agenda: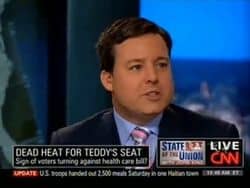 "An upset victory on Tuesday by state Sen. Scott Brown (R), who wasan afterthought a month ago in this Democratic-dominated state, wouldgive Senate Republicans 41 votes, enough potentially to scuttle thesweeping health-care legislation that is the president's top domesticagenda priority. Republicans also think that claiming Kennedy's oldseat, under his family's control since 1953, would be a political joltthat could herald big gains in November's midterm elections."
The President was heckled by an anti-abortion activist and seemed to lose control of the conversation. Writes Justin Miller in The Atlantic: "It may have been the tough week — the disaster in Haiti and endlessnegotiations on health care. But it is also true that Obama justdoesn't enjoy fighting.If Coakley loses, Obama will have to get much tougher onthe GOP than he was with that heckler. Otherwise, Coakley will be far, far from the last Democrat to lose this year." 
Meanwhile, Brown's teabagger supporters are suggesting he shove a curling iron up Coakley's butt.
According to Ed Henry, there is "real genuine fear" in the White House that anti-gay state senator Scott Brown is set to defeat Coakley tomorrow.
Press Secretary Robert Gibbs told reporters on Air Force One that they expect Coakley to win: "I said this on Friday when I was asked, and I'll say it on Sunday onthe ride home — we think Martha Coakley is going to win this race."
Watch both clips, AFTER THE JUMP…