A woman has been charged in the anti-gay New Year's Day attack in Buffalo, New York that left lesbian Angie Harmon blind in one eye. 21-year-old Suzanne-Deanna Grover confessed to the attack but claimed she acted in self-defense: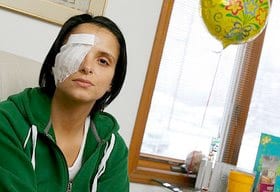 "Buffalo police have charged Grover, who gave a City of Tonawanda
address, with second-
degree assault and a bias-motivated crime, according to police reports. In her detailed statement, Grover claimed that Harmon's group had
attacked her verbally and
physically, sources said."
Conflicting versions of the attack led to a three-week delay in the arrest:
"The arrest papers filed against Grover say that 'the defendant
intentionally selected
Lindsay Harmon because of a belief or perception regarding Lindsay
Harmon's sexual
orientation.' [Attorney Frank A.] Sedita wouldn't comment on any statement given by
Grover, although he did take issue with
an earlier broadcast report that she had "confessed" to the crime. The district attorney promised an in-depth grand jury investigation.