At a reception yesterday at 10 Downing Street for LGBT supporters, British Prime Minister Gordon Brown spoke out about the repeal of the military gay ban in the United States.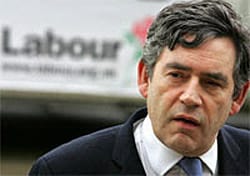 Said Brown to those gathered: "You are the pride of our country and we thank you very much. We know this debate continues in America today. I would say to people who still favour 'don't ask, don't tell', look at our experience in Britain."
He promised to never give up on gay rights: "Tonight we reaffirm our commitment, my commitment, the commitment of the Government to standing with you all until the full range of gay rights are achieved. When we started as a Government on this journey, people said the dreams that we had together were impossible…. as long as Harriet (Harman) and I and other ministers are able to work with you, I promise you that nobody ever need walk the road to equality alone."