A bill was introduced this month by Assemblywoman Bonnie Lowenthal to remove it the Long Beach Press Telegram reports: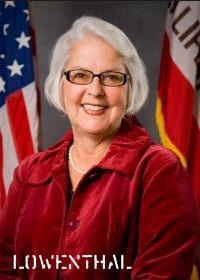 "The law originally was written in 1950 and re-enacted in 1967, the same year gay men protested police brutality and harassment at the Black Cat Tavern in Silverlake, which some historians consider the birthplace of the gay rights movement.
Some minor amendments were made to the law as late as 1977, but the basic language – calling for a cure for homosexuality – remains in state law.
On Feb. 19, Lowenthal, D-Long Beach, introduced AB 2199. The bill would repeal Section 8050 of the Welfare and Institutions Code, which declares the State Department of Mental Health 'shall plan, conduct and cause to be conducted scientific research into the causes and cures of sexual deviation, including deviations conducive to sex crimes against children, and the causes and cures of homosexuality…'
Geoff Kors, executive director of Equality California and bill sponsor, brought the idea in the past few months to Lowenthal's attention."
Said Lowenthal: "Our codes are constantly updated, and the fact this language has survived this long is pretty amazing. We need to blot it out and make it clear we're moving forward as a society, not backward."
Amen.