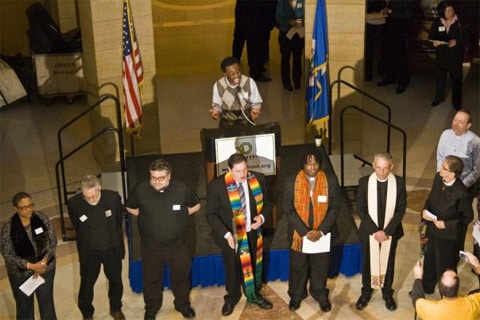 Clergy of various faiths, gay activists, and supporters rallied at Minnesota's state capitol in St. Paul yesterday at an event called event called "I Do Support Love Freedom to Marry Day Rally" organized by MN's largest gay rights group OutFront Minnesota, KARE11 reports:
"The common theme of the rally centered around the support some local churches are offering towards a marriage equality bill.
'Today's powerful statements by Minnesota clergy in favor of marriage equality will help move Minnesota toward an eventual end to discrimination in marriage,' OutFront Public Policy Director Monica Meyer said.
Besides religious speakers, various politicians voiced their support for a marriage equality bill and spoke of their previous support of gay equality.
Among the politicians that spoke were DFL Senators Scott Dibble, Mee Moua, Sandy Pappas, Linda Higgens, and State DFL Representative Karen Clark.
DFL gubernatorial candidates Mark Dayton, Matt Entenza, and John Marty also attended the event."
(images via OutFront Minnesota's Facebook page)