The Chicago Sun-Times takes a look at Senator Bill Brady (R-Bloomington):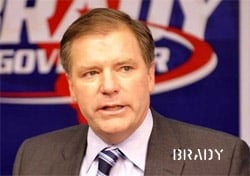 "The GOP gubernatorial front-runner Wednesday proposed changing the state Constitution to ban same-sex marriages, make it more difficult to pass state tax increases, impose term limits on lawmakers and overhaul the process of redrawing legislative boundaries.
"I'm trying to give the government back to the people," said Sen. Bill Brady (R-Bloomington), when asked what the package says about him as a candidate for governor. The same-sex marriage prohibition would prohibit gay marriages and civil unions."
The HuffPost reports: "Brady's opponent Dillard is also opposed to gay marriage and civil unions, but it was not clear whether he would try to change the Constitution over the issue.
The proposal is another serious hit for the gay community in Illinois. While Dan Hynes campaigned promising that he would work for marriage equality, Gov. Pat Quinn opposes gay marriage, leaving many wondering if gay marriage will ever happen in Illinois.
The chances of Brady's proposal happening in dark blue Illinois is unlikely–but if by some chance the GOP defeats Gov. Quinn in the general election, the gay community in Illinois may have something else to worry about.