South Florida Gay News and Truth Wins Out yesterday unmasked Arthur Abba Goldberg (known as Abba Dabba Doo in the financial world),a leader at two national "ex-gay" organizations, as a con man and ex-con who defrauded the poor with bond schemes: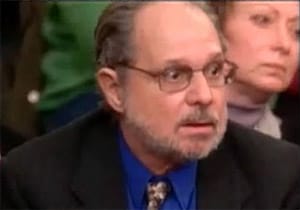 "The leader of JONAH, Jews Offering New Alternatives to Homosexuality, Arthur Abba Goldberg, is now also serving as President of his Jersey City temple. He was sent to federal prison 20 years ago for a conspiracy to defraud the United States of America.
Additionally, Goldberg is presently the Executive Secretary of NARTH- the National Association for the Research and Therapy of Homosexuality. The group hopes to heal "unwanted homosexuality" through "therapeutic care."
One more group he supervises is PATH- Positive Alternatives to Homosexuality- a coalition of religious, ministerial, and ex-gay groups promoting "non-gay alternatives to homosexual lifestyles." He is their President.
Goldberg, who reinvented himself in 2000 as the founder of JONAH, was found guilty in 1989 of numerous felonies in multiple jurisdictions. The charges ranged from federal mail and wire fraud to conspiracy counts as a result of a bogus bond writing scheme."
National Anti Gay Leader Is a Convicted Felon, Con Man [south florida gay news]
Ex-Gay Icon is Secret Ex-Con Who Specialized In Bilking Poor Communities [truth wins out]