The latest from the unending sleaze saga of John Edwards, from the New York Post: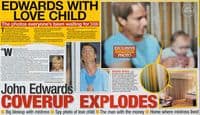 "Disgraced former presidential candidate John Edwards has reportedly proposed to his baby mama — and plans to buy a posh, $3.5 million beachfront home where they can live together.
Edwards popped the question last month at the same time he told his ex-mistress Rielle Hunter that he had issued a statement confirming that he indeed fathered her 2-year-old daughter Frances Quinn, The National Enquirer reported today.
Hunter said 'yes' when Edwards asked here (sic) to be his bride, the newspaper reported."