Shortly after he was robbed by the judges (imho) last night, Johnny Weir was discussing the next phase of his career, Martin Rogers at Yahoo Sports reports: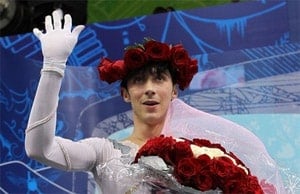 "No figure skater, man or woman, is more in your face than Weir, who delivered his usual dose of outrageous and unapologetic theater at the Pacific Coliseum, to finish the men's event in sixth place.However, as Weir exclusively revealed to Yahoo! Sports just moments after finishing his program, he might not be in your face for much longer.'I am going to skate in the World Championships and then I have to decide how long I want to stay on vacation,' he said.'In figure skating your body can only last for so long.I can't be 50 and trying to skate but I can be 50 and be in fashion, so I have to look to my future and what I want to achieve.'"
Added Weir: "I want to create art more than anything and the way I want to do it is through fashion.I want to go to the Fashion Institute of Technology in Manhattan and really learn the basics of fashion from the ground up. I want to create things while I have time on earth, and the art of costume and culture has always inspired me.I think being in the public eye can only help me launch into the world of fashion."
Here's an analysis of the judging behind the Johnny Weir robbery.